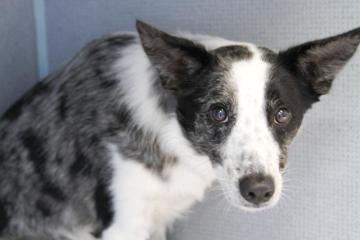 When I returned to my local shelter, BGWCHS, today to spend some more time with Harlin (see
http://bcrescue.org/phpBB3/viewtopic.php?f=5&t=13687
), I inquired about Nelly. She is in the quarantine area, so I asked a staff member what her story was. She was adopted about a year ago from the shelter and returned earlier this month. Reasons given were that she was too energetic and didn't fit with the family's lifestyle. She was extremely shy when she first arrived and still takes awhile to warm up to people. But I really like her and think that, in the right hands, she would blossom quickly.
FYI, the shelter has her listed as an ACD/Aussie mix. But I really think she's BC. I made DH take a ton of photos as I was interacting with her today and even a couple of brief videos so anyone interested can see how she moves. We spent over 30 minutes with her, so I'll be able to share a fuller evaluation and more pictures later.
Here is her PF link:
http://www.petfinder.com/petdetail/23298728
.
ETA: Just time to add a couple of photos now....
The view I had of Nelly for the first 10 minutes or so; I was at the opposite corner of her run.
A profile shot after we had been out walking around for awhile.